The 55th Annual Scientific Meeting of the Irish Neurological Association (INA) was deemed a very successful event that showcased significant emerging talent in the Irish neurology and neuroscience field.
2019 INA meeting a highlight of the Irish neurology calendar
The 55th Annual Scientific Meeting of the Irish Neurological Association (INA) was deemed a very successful event that showcased significant emerging talent in the Irish neurology and neuroscience field.
The meeting, which took place on 6-7 June at the Radisson Blu Hotel, Little Island, Cork, was directed by Dr Brian McNamara, Consultant in Clinical Neurophysiology at Cork University Hospital and Mercy University Hospital, Cork.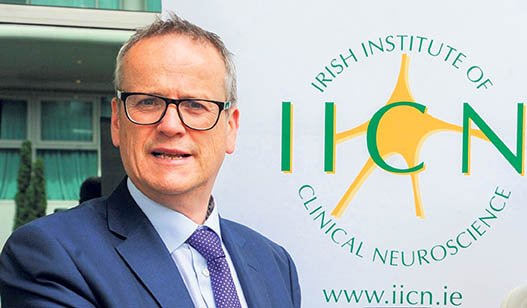 At the heart of the conference programme was original research in clinical neuroscience presented in poster and platform format.
The research presented was of a very high standard with exciting new findings in neuroinflammation, neuropathology, clinical neurophysiology, movement disorders, epilepsy, cerebrovascular disease and neurosurgery.
The social aspect of the programme consisted of a memorable dinner in the elegant surroundings of the Crawford Gallery, Cork. The delegates were entertained and enlightened by a gallery tour from Dr Michael Waldron who brought the gallery alive with his knowledge and insights into its wonderful collection of paintings.
Speaking to the Medical Independent (MI), Dr McNamara said the meeting had gone very well with a very high standard of presentations from both the key speakers and trainees.
"It showed that Irish neurology and neuroscience is in a very good place and we would be very optimistic about the future. We had a wonderful presentation from a great alumnus of Irish neurology, Prof Andrew McKeon of the Mayo Clinic in the US, on autoimmune neurology. He is a fantastic resource and shares cases with us, and even recently I spoke to one doctor who mentioned having discussed a case with him. It is fantastic to have that, and it goes right through the specialty, the ex-pat community are a fantastic resource for neurology in Ireland. It is a wonderful thing, we are very fortunate," he said.
Dr McNamara thanked the chairpersons of sessions, the poster tour guides and the judges for their contribution to the INA meeting 2019.  Details on future INA and Irish Institute of Clinical Neuroscience (IICN) meetings can be found at www.iicn.ie.
Research awards highlight quality of Irish neurology and neuroscience
The quality of the research presented at the 2019 Irish Neurological Association (INA) Annual Scientific Meeting in Cork was a particular highlight of the conference, covering a huge breadth of neurological and neuroscience topics, with a strong focus on improving patient outcomes through better understanding of disease processes and current treatment approaches.
Awards were made for the best presentations in a number of categories at the 2019 INA meeting. These included:
The Harold Millar Prize was awarded to Dr Eimear Maloney for her presentation 'The incidence of first seizures, new diagnosis of epilepsy, and seizure mimics in a defined geographic region in Ireland'.
The John Kirker Prize for the best epilepsy-related paper was awarded to Dr Siobhan Delaney for her study 'Analysis of the aetiology of epilepsy in 3,588 patients using an electronic epilepsy patient record'.
The Mark Gibson Prize for the best movement disorder-related paper was presented to Dr Diana Olszewska for her study 'The first pathological study and the second report of a family with frontotemporal dementia parkinsonism type 17 (FTDP-17) with heterozygous splicing variant c.823-10G>T at the intron9/exon 10 of the MAPT gene'.
The Hugh Staunton Prize for the best presentation by a medical student or intern was presented to Dr Michael Gilligan for his study 'Diagnostic investigations in suspected autoimmune and paraneoplastic encephalitis: a six-month retrospective audit'.
The award for best neurosurgical presentation was made to Dr Michael Ita for his study 'Plasma cell free DNA levels correlate with radiographic tumour dimensions in brain malignancies'.
The award for best poster presentation was made to Dr Grace Crotty for her presentation 'Serum urate as a biomarker of resistance to Parkinson's disease among carriers of pathogenic GBA mutations'.
Irish epilepsy patient record giving valuable insight into aetiology of the condition
The introduction of the HSE's national electronic epilepsy patient record (EPR) has enabled the creation of the world's largest aetiology study of epilepsy in a single centre, delegates attending the 2019 Irish Neurological Association (INA) meeting in Cork heard.
Dr Siobhan Delaney, Neurology Department, Beaumont Hospital, Dublin, presented the findings of an analysis of the aetiology of epilepsy in 3,588 patients attending the national centre in Beaumont, through their EPR. She noted that aetiology is absolutely critical to determining the correct diagnosis and consequently the best treatment options for the patient, and allowing them to better understand and come to terms with their diagnosis.
Overall in the EPR system across Ireland, there are currently 8,298 patients, with 5,404 of those registered in Beaumont.
The presented study is the first single-centre analysis of the aetiologies of the epilepsies in an Irish population and one of the first epidemiological studies utilising electronic patient records.
The study used predetermined search parameters of well-established broad categories of epilepsy aetiology to identify patients through the EPR with a diagnosis of epilepsy attending Beaumont Hospital between January 2018 and November 2018, and, after various exclusions, 3,588 patients met the inclusion criteria.
The EPR facilitated collection of data concerning relevant risk factors contributing to epileptogenicity to better inform the overall aetiologies of the epilepsies in this patient cohort, Dr Delaney noted.
Outlining the key findings, she said idiopathic epilepsies represent 16 per cent (n=575) of the cohort, with 88.7 per cent (n=510) having idiopathic generalised epilepsy. Of the symptomatic epilepsies, 38 per cent were acquired and 6.8 per cent were predominantly genetic or developmental aetiologies. The most common causes of symptomatic acquired epilepsies were hippocampal sclerosis (n= 361), cerebral tumour (n=246), trauma (n=219), vascular malformation (n=137) and cerebrovascular disorders (n=132).
The leading causes in the genetic or developmental category (n=245) include anomalies of cerebral structure (n=124), neurocutaneous causes (n= 49) and Lennox-Gastaut Syndrome (n=43). In over a third of patients, 36.5 per cent (n=1311), the aetiology of their epilepsy was undetermined, in line with international findings.
"The results of our classifications are commensurable with those reported in the literature," said Dr Delaney, adding that further studies are planned, with particular interest in finding out more about the undetermined aetiology cohort.
Later in the meeting, the John Kirker Prize for the best epilepsy-related paper was awarded to Dr Delaney for the study ('Analysis of the aetiology of epilepsy in 3,588 patients using an electronic epilepsy patient record').
Speaking to the Medical Independent (MI) following the study presentation, co-author Prof Norman Delanty, Consultant Neurologist, Beaumont Hospital and researcher at the RCSI FutureNeuro Centre said the EPR in epilepsy was facilitating important research that would lead to better outcomes for patients.
"We have fantastic data now and we have scope to ask a whole lot of different questions. This is really just the start…. It is amazing to get data on 3,500-plus patients because imagine going through that many patient charts. So yes we have lots of data now but it is a matter of asking the right questions and mining the data and Dr Delaney is writing this up and it will be the biggest aetiology in epilepsy paper [in the world], when it is published, from our knowledge of the literature. In terms of the overall power of electronic healthcare records it does demonstrate whether it is epilepsy, or any of the other chronic diseases, if you have got an 'at your finders' database that you can ask questions of, that is really powerful. But of course, as Siobhan [Delaney] said in her presentation, it is the same as a paper record in that the power of electronic data is as good as the data that is put into it. There is always going to be incorrect or missing data but that is the same as any hospital record including the patient chart, the traditional written paper chart."
When asked if the introduction of the EPR has already led to improved outcomes, Prof Delanty replied "absolutely".
"For example, there has been a lot of data recently and in the media that sodium valproate is a highly teratogenic drug in pregnant women with epilepsy, and we do counsel our patients on that. But if you ask how many women of childbearing age are there, between 16 and 44 years, for example, we can answer that question now with the EPR, and while that takes some expertise and time, it would be impossible to ask that question in a traditional setting with paper charts everywhere."
He confirmed to MI that there are a number of other epilepsy medications that doctors have concerns about regarding potential teratogenicity.
"I think the numbers here are small but there are other drugs such as topiramate, which is used for epilepsy and migraine where there is some concern about teratogenicity. Some of the older drugs like phenytoin and phenobarbital are not completely safe either so valproate is probably the worst but it is not the only drug where there are concerns about safety in pregnancy and that has to be discussed between the patient and the doctor because even sodium valproate sometimes has to be used in pregnancy as it is the only drug that controls some people's seizures. So if a woman is having convulsions all the time, falling down, injuring herself, injuring her baby and if the only drug that controls the seizures is, for example, sodium valproate, then that may be the only choice, but there are concerns with other drugs. And with the newer drugs we don't have any good pregnancy data, which is why we need pregnancy registries worldwide. There is always going to be a trade-off between risk of the treatment and risk of active disease."
Autoimmune antibodies playing a growing role in neurology diagnosis
Autoimmune antibodies and biomarkers are playing an increasingly important role in the correct diagnosis of certain neurological disorders and the choice of particular treatments for cancers with central nervous system (CNS) antibody involvement, delegates attending the 2019 Irish Neurological Association (INA) meeting heard.
The highlight of the meeting was the Callaghan Guest Lecture delivered by Prof Andrew McKeon Professor of Neurology, and Associate Professor of Laboratory Medicine and Pathology in the Mayo Clinic College of Medicine and Science, Rochester, US. He spoke on the topic of 'IgG biomarkers of central nervous system (CNS) autoimmunity'.
Prof McKeon is originally from Dublin and graduated from University College Dublin Medical School in 2000. Following his clinical training in Ireland and the US, he became a consultant at the Mayo Clinic in 2009.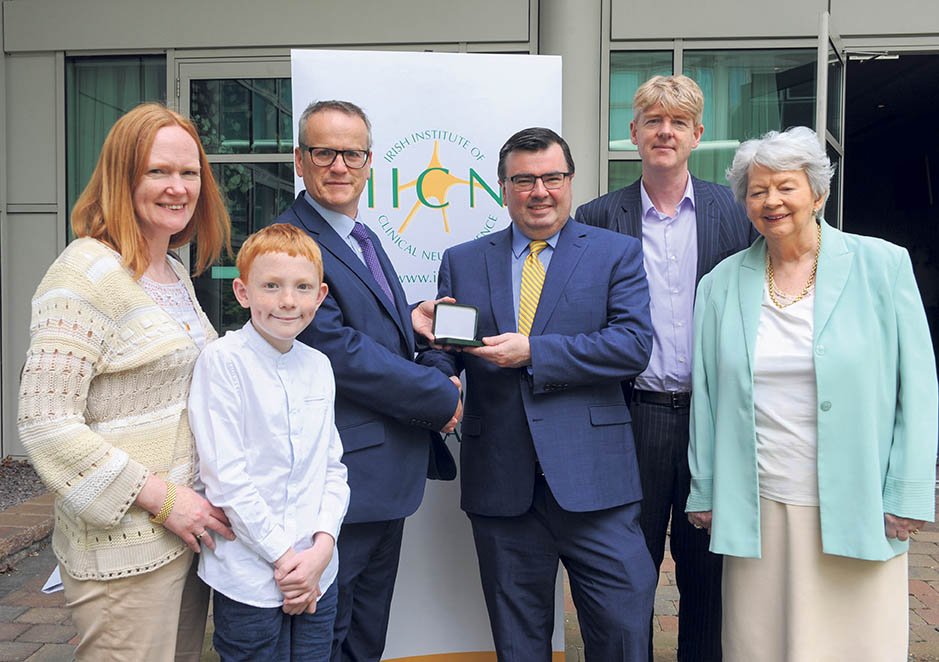 The last two decades has seen a dramatic increase in the discovery and description of new autoantibodies and their clinical associations. Commercial autoantibody testing is now available for many neurologic disorders, including paraneoplastic syndromes and autoimmune neuromuscular disorders. Additionally, autoantibodies have been proposed as important in the diagnosis or pathogenesis of other disorders, including some forms of autonomic failure, ataxia, movement disorder, dementia, epilepsy, and CNS demyelinating disease.
Prof McKeon currently co-directs the Mayo Clinic's neuroimmunology laboratory, which is a service and research laboratory specialising in diagnostic antibody tests for autoimmune neurological diseases. His research and clinical interests pertain to the evaluation and treatment of patients with autoimmune CNS disorders, and he is particularly interested in finding new specific biomarkers, as he explained at the meeting.
The neurologic manifestations affecting the CNS include encephalitis, dementia, epilepsy, and movement and sleep disorders. The tests for most of these neural-specific autoantibodies serve as diagnostic markers, in some instances directing the physician toward specific cancer types (eg, N-methyl-D-aspartic acid receptor antibodies for teratoma, and collapsin response mediator protein 5 for small-cell lung cancer) and assisting in therapeutic decision making.
Antibodies targeting intracellular proteins serve as markers of cytotoxic effector T-cell-mediated injury, which is generally poorly responsive to immunotherapy. By contrast, antibodies targeting extracellular plasma membrane proteins may act as pathogenic effectors and often infer good responses to immunotherapy. Diagnosing these conditions and implementing treatment as early into the clinical course as possible ensures the best possible clinical outcomes.
Prof McKeon noted that there is "a proliferation of autoimmune antibody tests now and we want to ensure that the utilisation of the tests is good as well, that we are not over- or under-utilising them".
The more common autoimmune antibody tests include aquaporin-4 antibodies for a mimic of multiple sclerosis (MS) known as neuromyelitis optica (NMO), NMDA-receptor encephalitis, and autoimmune glial fibrillary acidic protein (GFAP) astrocytopathy and LGI1 encephalitis, he explained.
The signs to watch out for in patients who would be candidates for such tests include those "who have a sudden onset of a rapidly progressive disorder, not like a stroke, but something that develops over days to weeks, often with rapid cognitive decline or rapidly progressive walking problems. So if you see a patient with those symptoms, autoimmune is on the list but there may be many other reasons a person could have that. Appropriate referral to a neurologist is the way to go," Prof McKeon said.
He confirmed that his laboratory carries out serum and spinal fluid evaluations for patients from over the world, including for Irish neurology services, "but in terms of clinical care for these kinds of patients it is second-to-none here in Ireland and there is a very high level of awareness of them in the academic neurology community".
Following his very well received presentation, Prof McKeon was presented with the Callaghan medal, which was named in honour of the pioneering Irish neurologist Dr Noel Callaghan, by INA President Dr Brian McNamara.
New treatment for relapsing remitting MS is 'dawn of a new era'
The advent of the first licensed disease modifying therapy for primary progressive multiple sclerosis (PPMS) represents the dawn of a new era, which will hopefully herald a wave of new successful treatments for this difficult to treat disease, according to a leading international expert in the area.
The 2019 Irish Neurological Association (INA) annual meeting featured a dedicated session on MS with a discussion between Dr Brian Sweeney, Cork University Hospital and Prof Björn Tackenberg, Marburg University, Germany, who described the treatment of MS in Germany and his experience with new agent ocrelizumab.
Ocrelizumab is a humanised monoclonal antibody that targets CD20 positive B-lymphocytes that contribute to nerve damage in MS. It is the first licensed disease-modifying therapy for PPMS, which up until now had little effective options outside of symptomatic treatments, unlike relapsing remitting MS (RRMS). Also licensed for RRMS, ocrelizumab has been shown to slow the advance of PPMS, although by how much and for how long are uncertain and it is still going through the public health system reimbursement process in a number of countries including Ireland. It was recently approved in the UK and has been available to approximately 530 patients in Germany though a compassionate access programme, as Prof Tackenberg explained.
"So there is hope for these patients but it is not suitable for every patient. But it is the start of a new area and is stimulating research clinically and immunologically now that there is a treatment option," he commented as he reported the latest data and a number of case studies.
One case study involved a female patient who was a long time PPMS sufferer (11 years) who had a successful response (resolved trunk ataxia, stabilised gait ataxia and slightly improved walking distance) to ocrelizumab.
Prof Tackenberg said he wanted to highlight this case, as the indication for ocrelizumab is for early PPMS, and how is that defined- though length of diagnosis or progressive disease? "For me it means early in the disability story. So we have a patient with only ataxia and motor symptom signs of disease, so while she has MS for 11 years I recommended she start with ocrelizumab as she fulfilled the two key things: early in the disease duration and early in the progression stage…. For her we had stabilisation. That for me was a good response."
Regarding assessing individual response to ocrelizumab, he recommended re-evaluating the patient after two years.
Prof Tackenberg also reminded delegates that when considering switching therapies to remember that the wash-out periods vary among the different drugs.
He also noted there is work ongoing in Germany in relation to new MS clinical guidelines to take into account the latest treatment options, with a need for clinicians to bring themselves as up-to-date as possible.
Looking at other treatment options in MS, there was discussion with the audience about the use of bone marrow transplants. While very effective in suitable patients, the current mortality rate of about 7 per cent means it is not a regular option.
"My key message is that clinicians should carefully monitor patients with MS. In terms of treatment response, that means MRI and clinical examination, and also safety. We now have excellent treatment options in MS, over a dozen drugs and we can stabilise patients with MS in about 85-90 per cent of cases. So that means that every patient needs to be seen by a neurologist used to dealing with MS and patients have to be monitored with MRI," Prof Tackenberg told the Medical Independent.
Genetics in epilepsy
Genetic testing and research is playing an increasing role in epilepsy, with Irish research now at the forefront of this area, the 2019 Irish Neurological Association (INA) annual meeting in Cork heard.
Speaking to MI following a number of epilepsy related research presentations, Prof Norman Delanty, Consultant Neurologist, Beaumont Hospital, Dublin, and leading epilepsy researcher, mentioned that the FutureNeuro Centre in Dublin is currently doing significant research on epilepsy genetics and whole exome sequencing for patients with unexplained epilepsy and is trying to get this area embedded into the Irish health system.
"This is an adult as well as a paediatric issue where you have people with epilepsy of unexplained cause but they may have a genetic condition and if you do whole exome sequencing you might get the cause. So there is a lot of work going on in genetics and epilepsy. Whole exome sequencing as a diagnostic tool is going to become more important and more powerful in medicine in general but unfortunately the Irish health system has not well embedded this. The whole issue with clinical genetics and clinical genomics in Irish medicine needs to be improved. There are huge shortfalls [in genetic staff and services in HSE] in the paediatric side but I'm coming at it from the adult side and genetic testing is really important in adult medicine as well," he told MI.
Prof Delanty was one of the lead researchers in a large-scale international genetic study that published its findings of 11 newly identified epilepsy-associated genes last year.
The study compared the DNA of more than 15,000 people with epilepsy to the DNA of 30,000 people without epilepsy. The results tripled the number of known genetic associations for epilepsy and implicated 11 new genes.
The researchers found that the majority of current anti-epileptic drugs directly target one or more of the associated genes and identified an additional 166 drugs that do the same. These drugs are promising new candidates for personalised and precision epilepsy therapy as they directly target the genetic basis of the disease.
The research from the international League Against Epilepsy Consortium on Complex Epilepsies, published in Nature Communications, has greatly advanced knowledge of the underlying biological causes and genetic factors of epilepsy and may inform the development of new treatments for the condition.