Morgan Flanagan Creagh reviews the Mazda MX-5 and test-drives a special, exclusive edition that does everything it is required to do — aside from being practical
I finished off summer 2019 with a back-to-back blast of automotive sunshine, starting with the Megáne RS and ending in the Mazda MX-5. Two fantastic cars, both aesthetically show-stopping and mechanically magnificent, but in different ways.
After a week in the Megáne, I must admit that the MX-5 felt a little cramped — that was, until I whipped the roof off and let a bucketload of the beautiful outdoors into the cabin. The cockpit in the MX-5 is small, the glovebox is in a silly place and you will knock your coffee over if you're careless when you're pulling the gearstick in to second or fourth gear. But like a beautifully bad relationship, when it's good, it's red hot and that's all that matters.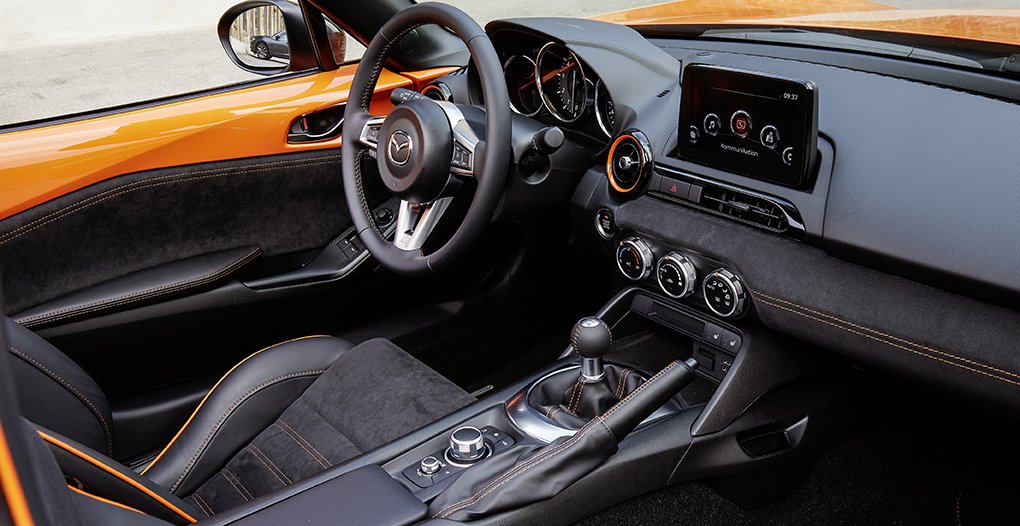 Mazda's Jinba ittai (unity of horse and rider) principle is what the driving experience of the MX-5 is all about. You feel like you have a symbiotic association with the machine, like it's a natural extension of your being. As former Mazda-Japan MX-5 Programme Manager Takeo Kijima said: "When the car and driver are in perfect harmony, driving is fun." How right he is.
There is no argument from the MX-5; where you point it, it goes. When you need more power, it gives it — no turbo-lag, no under-steer, just blind, unwavering obedience. This car does everything you want a car to do, aside from being practical. An example of which is the limited slip differential, which will, without hesitation, allow you to kick the backside out and do your best Steve McQueen impression at a moment's notice. The beauty of the MX-5, over more hardcore sports cars, is that any road is fun. You don't need the autobahn or Nürburgring; simply take the roof off on any winding road, listen to the motor and have fun with the driving experience. The MX-5 can turn any Irish road into the winding LA foothills. Simply put, it's an automotive mood enhancer.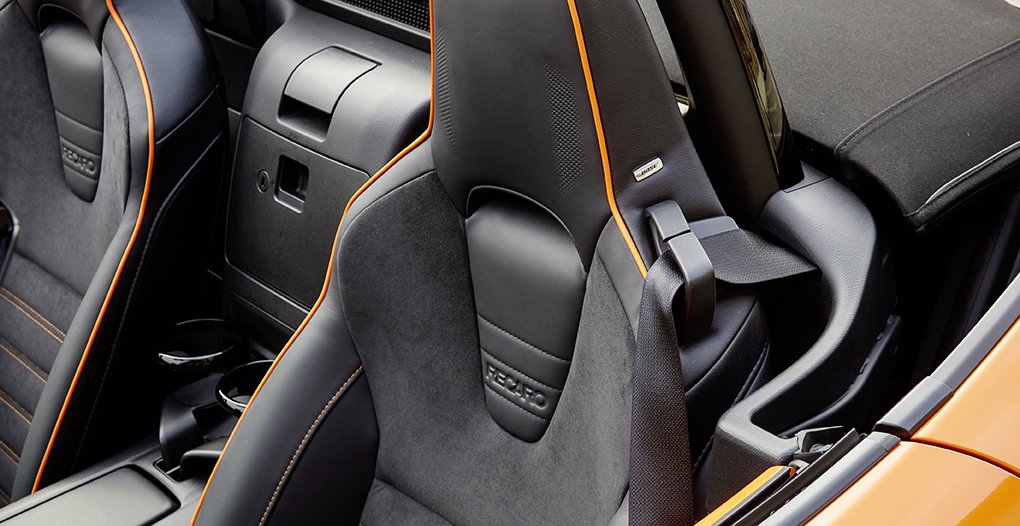 You may have noticed by the striking colour in the pictures that the MX-5 I was testing was a little different to the rest. That's because it's the exclusive 30th anniversary edition, of which only 3,000 are being built and only 10 are coming to Ireland. Needless to say, this is one of that 10, number 16/3,000, to be specific. The MX-5 debuted in the Chicago motor show in 1989 and 30 years later, the MX-5 is the Guinness Book of World Records best-selling two-seater sports car of all time. In celebration of the MX-5's history, this edition comes with specially-developed forged aluminium RAYS wheels, with Brembo front brakes. There are also special touches throughout the cabin, namely orange accents in the seats, door trim, dashboard, steering wheel, vents and on the gear leaver. There's also Recaro seats and a kiss of Alcantara suede on the doors and instrument panel.
This model comes with the 180hp, 2.0 petrol engine, which gets you from 0 to 100kmh in 6.5 ecstatic seconds. It has a beautiful whine from the motor in the high end of the rev range that'll make the hairs on the back of your neck stand up. I've complained in previous articles about smaller, slower engines in some MX-5s of old, but this one is an absolute peach. It's got a wonderful six-speed manual gearbox that's a treat to engage with, Bilstein dampers, a strut brace, and that mood-enhancing, limited slip differential I wrote about earlier.
I love the MX-5 RF, with its convertible hard top, but the speed with which you can take the hood off in the soft-top model is great. If you've ever owned a convertible with an automatic roof, you know the pain of stopping at traffic lights when the rain starts and hoping they last long enough to get the roof back up. This is not a problem for this model, as you just reach up, push the button and pull the roof back, then vice versa when the weather changes. Three seconds down and five up was the time I did it in.
To touch on practicality for a moment, the boot is surprisingly deep and the silly central glovebox is too, but there are no door pockets or any of that bourgeois nonsense. It has safety features like traction control, airbags, lane departure warning system, driver attention alert, traffic sign recognition and front and rear smart city brake support to prevent bumps and shunts in traffic.
My office is beside a school and according to colleagues with a view of the car park, this was the most photographed car by the kids, taking the crown from the Megáne after just one week on the throne.
The Mazda MX-5 is the world's best-selling sports car, it's fantastically user friendly and makes for a wonderful dirty little secret. Who needs a mistress, or a toy-boy, when you have your own luminous orange sex machine in the garage? If you have children I would, once again, advise boarding school for them and an MX-5 for you.