The difficulty in recruiting doctors to work in the Irish health system was raised at the recent Future Health Summit in the RDS.
Ms Colette Cowan, CEO of University of Limerick (UL) Hospitals Group, outlined to attendees at the summit that her Group found it hard to recruit consultants.
"It is very difficult to hire and recruit consultants in Ireland at the moment," Ms Cowan told the summit.
"We should be giving more lucrative contracts so that they can work in both areas safely and comfortably."
Prof Nick Slevin, Clinical Director of the Christie NHS Foundation Trust International in Manchester, UK, spoke later at the summit where he said the system of recruitment in Ireland is "shambolic".
Prof Slevin was speaking at the conference about the collaboration between the Christie Cancer Centre in Manchester and Cork University Hospital (CUH) on radiation oncology services.
In terms of working in Ireland he noted that "there have been challenges".
"One of the things we were very surprised at, was just how protracted recruitment of new staff is in Ireland," said Prof Slevin.
"Absolutely shambolic. It needs changing. That is all I will say about that."
The summit was also addressed by outgoing CUH CEO Mr Tony McNamara who highlighted the positive benefits of collaboration between his hospital and the Christie Cancer Centre.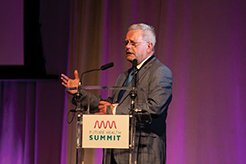 "Well, I think the added value of engaging with other hospitals internationally is a good thing," Mr McNamara told the Medical Independent (MI) following his address.
"The peer-to-peer work we have done with the Christie Cancer Centre has significantly accelerated the pace of change I think in relation to radiation services.
"Clearly the uncertainty of Brexit is something that is of concern to us, particularly in relation to collaboration on trials, we will just have to respond to political circumstances as they change."
Asked whether he thought there has been sufficient discussion on the issue of Brexit at the top of the Department of Health and the HSE, Mr McNamara told MI "absolutely".
"There has been much discussion on the impact of Brexit on the health service and because of the uncertainty of Brexit we will have to wait and see what the impact will be and we will have to adjust to that as it emerges."